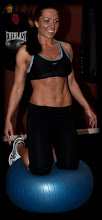 Dani Grabol once weighed 225 pounds and was a pack-a-day smoker.
Then,  in 2005, her doctor told her that if she didn't change her ways she'd be dead before she turned 40.  So she hit the gym.
A year later she'd lost 70 pounds and competed in her first triathlon.  Instantly hooked, she made plans to do more.  But  while on a training ride in November 2006, she was struck by a drunk driver.  Her injuries were severe, including a crushed tibia and fibula, which required a titanium rod and several screws in her leg.  Doctors didn't know if she'd ever be able to run or bike competitively again….but they didn't know Dani.
It was six months before she could walk on that leg again.  And yet, within a year of the accident, a determined Dani ran her first half marathon.  Since then, she's completed two Ironman races (a 2.4 mile swim, 112 mile bike, and 26.2 mile run) and even a double Ironman (that's right–a 4.8 mile swim, 224 mile bike, and a 52.4 mile run).
And she's fast.  For the double Ironman, she finished second among women and fourth overall.  In 2011 she set a record for the fastest cycle across the state of Florida, completing the 422-mile distance in 27 hours 58 minutes.  Last year she crushed the women's course record–and beat all her male competitors–in a 12-hour time trial bike race in Texas despite torrential riding conditions (read on for details).
Now, she and racing partner
Kacie Darden
are training to be the fastest–and youngest– two-woman team to complete the Race Across America, or RAAM, a 3,000 mile bike race that they must finish in under 9 days. To put it in perspective, that's about 30% longer than the Tour de France, in less than half the number of days (for a taste of how difficult RAAM is, check out
this film trailer
).   As if these gals weren't incredible enough, they're doing it to raise money for
Camp Twin Lakes
, a network of camps for kids with disabilities and serious illnesses.
This is the first of a two-part post about this amazing duo, with Kacie Darden's own incredible story to soon follow.  Enjoy–and if you're as inspired as I am, please donate a little something to their cause
here
!
Dani, how did you get into endurance sports?  What was your first race?
My first event was a duathlon, at the age of 24, in 2006. I had lost 70 pounds prior to getting into cycling and running. I met a wonderful group of triathletes who encouraged me to take my fitness to another level and wanted me to try out competitive racing. I was hooked! In high school I played softball and was a cheerleader. I wasn't gifted athletically, but was always driven to do well. In college I gained a lot of weight, and wasn't fitness oriented at all. I also had a pack-a-day smoking habit from age 17 to 21.
How'd you start losing the weight and getting back on track?
I didn't have a nutritionist or follow any type of fad diet. I cut one bad thing out a month (I had HORRIBLE eating habits) and next thing you know I was eating really healthy. Being young helped a lot because my metabolism was still fairly active. For sure one of the most effective workouts for me then was a spin class….it was one of the only ways I could get in an hour of cardio without getting bored!
You've done two Ironmans and even a double Ironman since.  That's incredible!  So how did you turn into this endurance machine?   
I entered my first Ironman while I was still recovering from being hit by a drunk driver and crushing my left tibia/fibula. When I started racing I was surrounded by people who were training for an Ironman, and I knew after I did my first race that I wanted to do one too. Crossing that finish line was such a triumph for me, because I had overcome so much to get there. Doctors didn't  have faith in the fact that I would ever run again, let alone compete. I wanted it so badly, and it was so joyous to be done. I knew that I wanted to continue racing, but never imagined I would be getting into the 24 hour+ format.
What sports did you enjoy growing up–and when did you start cycling?
I played softball and was a cheerleader. I never had any particular athletic talent or gift. I was motivated to do well and had a lot of energy, I wanted to play every sport that was available to me! I took up cycling in 2006.
You're not only an accomplished endurance athlete with a busy training schedule but also have a "day job."  How do you fit it all in?
I work as a wellness director at a retirement home, a health and nutrition coach, and teach bike classes twice a week. Honestly, it's tough, but I just get up really early, go to bed late, and don't watch tv! Having a supportive partner who also races makes a huge difference as well. I couldn't do this without him.
You're less than five months from the start of Race Across America, a 3,000-mile bike race where you'll attempt to be part of the youngest 2-person female team ever to finish the race in the allotted 9 days–and only the third 2-person female team to ever do so. What made you decide to tackle this famous race–and to do it as part of a two-woman team? 
Last year I was asked to be part of an 8-person team. I declined because I felt like I would want to ride more if I was going to take all that time off from work and ride across the country. Kacie was also asked to be a part of the 8 person team and she accepted. The entire time they were racing, I was wondering what was going on. How fast are they riding? How are they sleeping? I was fascinated by the logistics of the whole thing. It's really amazing when you think about crossing the entire country via bike, and even more amazing when you add in your crew and support vehicles. When Kacie got back it pretty much only took a couple of email exchanges before I knew what she wanted to do. I was the perfect target for her– I love to ride my bike, and happened to be looking for my next adventure when she asked. Easy prey!

What's your typical training day like these days?  Training week?  At your peak, how many miles will you ride in a single week?
I typically train 7 days a week:
* Monday is SUPPOSED to be a masters swim (I am kinda slack on that these days!) then a strength workout and Pilates or run in the PM
* Tuesday:  1 hour 45 min evening ride (I teach cycling class and add on before class),
* Wednesday: 2 hour morning ride, evening strength and run
* Thursday: Pilates/yoga, 1 hour 45 min ride
*  Friday:  AM swim, PM Pilates
* Saturday and Sunday are about riding! My weeks vary in length, this week I have about 23 hours scheduled. Honestly, I have no idea how many I will ride at my peak! Maybe 450-500?
How did you create a training program that works for you and your schedule?
I didn't create my plan…I have a wonderful coach who keeps me from killing myself and forces me to take a break every few weeks! She is in charge of the hard part, I just ride!
I have to ask:  how many calories do you eat a day?  How many calories will you eat a day during RAAM, and what will you eat?
I am a creature of habit, and actually don't eat as many calories as people think I do. I typically eat around 1900 calories a day during the week, and closer to 2500 on the weekends. During RAAM I will plan on eating as close to the way I eat at home as possible. Fresh fruits and simple healthy foods will be ideal. I will also need to rely heavily on carbohydrates, so pasta, and foods that are low in fiber to avoid GI upset. Bananas, almonds, peanut butter sandwiches, coconut water,
Arden's Garden
 juices, those are all some of my favorites.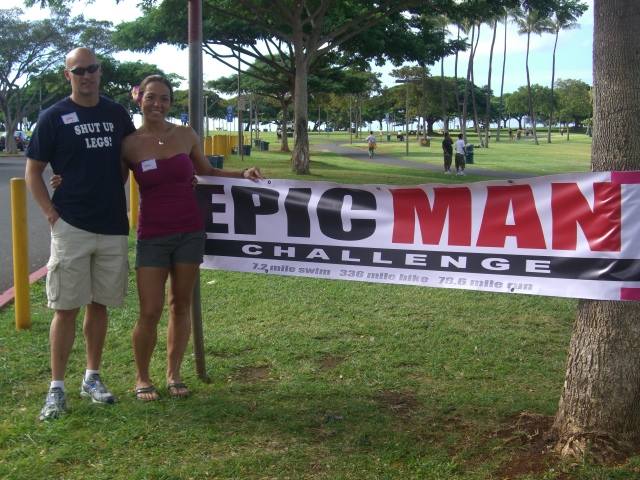 There must be days when you just don't feel like working out, or want to sleep in when you have an early workout on the schedule. Where do you find the motivation to push past the negative thoughts, get out there and get it done?
The hardest part for me right now is getting up in the morning to swim, when I know that I don't have to swim because I don't have anything triathlon related for a while! It's great cross training though, and really strengthens the neck muscles. There are certainly days when I would rather sleep than get up early, but I am constantly reminding myself what a gift this is….to have a body that is able to take this type of training. I am constantly reminded how precious life is in my line of work. I see marathon runners who are 65 with Parkinson's disease and in wheelchairs. You just don't realize how fragile life can really be. When I was recovering from my accident I was hoping and praying every day I would be able to ride a bike or run again. I promised myself I would never take it for granted, and I would never complain. Sometimes a complaint slips in every now and again!

I imagine that some of the biggest challenges–both in training and RAAM itself–are riding in bad weather, saddle sores, and the struggle of maintaining focus during the race when you're so exhausted.  How do you deal with the first two and how do you prepare for the third in training?
Mother Nature isn't really a huge fan of me. I did a 12 hour bike race in Texas in September where it poured rain and hailed the entire 12 hours. The wind was terrible, and the roads even flooded. I kept thinking they wouldn't make us ride through standing water, but they did! Short of a tornado, I've ridden in all sorts of inclement weather, it's just about keeping it safe and having a good attitude. I have a secret saddle sore cream (details to come!) and many tips on how to avoid them.
(To prepare for riding when exhausted,) you just practice riding while tired. I once rode for 12 hours overnight. I got up at 5am that morning, went swimming, went to work, came home and ate dinner. Then around 8 I went out to Columns Drive (in Atlanta, GA) and stayed up all night riding. It was a great opportunity to know what will happen to your body when you are tired. I love riding at night. Will I love it 4 days into RAAM? Probably not! There is no good way for us to simulate that level of fatigue in training without risking injury or getting sick.
A bit on race logistics:  What kind of bike will you be riding?  What kind of support will you have on the course? 
I will bring both my triathlon bike and road bike. We will have a 10 person support crew. We will each have our own minivan, plus a larger van to sleep in at night. We will turn our lives over to our crew once the race starts, and basically, our job is to eat and ride!
(In terms of shifts,) we are planning on doing short pulls back and forth for 16 hours of the day–anywhere from 10 minutes in the mountains to 30 minutes. At night we will both do two 4 hour pulls while the other person sleeps. I think the logistics are the most fascinating part as well!
What do you anticipate will be the most difficult part of the race doing it as a two-person team?  What are you looking forward to the most?
I think the hardest part is going to be no sleep. I am most looking forward to Annapolis, Maryland, which will probably look like the Holy Land by the time we reach it!
Many casual gym-goers adhere to that "no pain, no gain" philosophy of going all out every workout.  What can they learn about recovery and rest from a competitive endurance athlete like yourself.
Pain is a sign your body is giving you that something isn't right. There is a big difference in pain and discomfort. Most people have a hard time differentiating between the two. It's uncomfortable because you aren't used to it.  Relax, and take your time building up your fitness. It doesn't happen over night! The first time I went to the gym when I was trying to lose weight, I could only do 15 minutes of cardio. Be patient, and you will get there!
To err is human.  Over the years training for and racing in endurance events, what mistakes have you made and what lessons have you learned from them?
Dairy and running don't mix! Never try anything on race day you haven't tried out in training. Don't wear new shoes on race day! Just because your friends are swimming/riding/running a program, doesn't mean it is the best training for you.
You're doing this race to raise money for a wonderful organization: Camp Twin Lakes, a network of camps in Georgia for children with disabilities, serious illnesses and other challenges.  How did you select this organization in particular?  How can people sponsor you with a donation?
I volunteered for Camp Sunshine, a CTL camp, when I was 18, so I've known about them for a long time! I am a strong believer that no one should be bound by disease or disability, and Camp Twin Lakes provides an outlet and place where kids can be treated the same despite having life-altering conditions. It's really cool to take kids with diabetes and say "look, you CAN do this, you are different, but you aren't wrong!" Children need more places that remove limitations from their brains. People can donate to our website for Camp Twin Lakes at 
www.raam2013.org
How has participating in endurance sports contributed to other parts of your life?
Accomplishing great things physically has made me more confident in my abilities in all aspects of life. I don't shy away from any type of challenge, and like continuing to strive to better myself daily. It's made me appreciate my body more, my health, and the incredible people around me that support me and love me no matter what nutty things I want to do. It's an amazing thing to tell someone you want to ride your bike across the country and they look at you and say "That's awesome. You can totally do that. How can I support you?" I don't take people like this for granted, they are the my foundation!
What advice would you give to someone who's thinking of training for their very first endurance event–be it a sprint triathlon or century ride?
Have FUN! Smile! Take it all in and savor the moment. You will never cross your first ever finish line again. Attitude is everything, keep a positive one if something goes wrong and you will have a wonderful experience.
After all you've done–and after RAAM–what's left on your to-do list of endurance events?
How much room do you have left?

My more immediate plans are a 100 mile run, Furnace Creek 508-mile bike race, Rim to Rim Double Crossing of the Grand Canyon, and I would like to develop and race-direct an ultra bike race in Georgia!
Finally, how can people both follow your training and follow along and cheer you on while you're racing RAAM?
A huge thanks to Dani
for sharing her inspirational story!  Once again, you can contribute to their chosen charity
 here
.  Stay tuned for an inspiring Part Two where we'll talk to Dani's racing partner Kacie Darden!